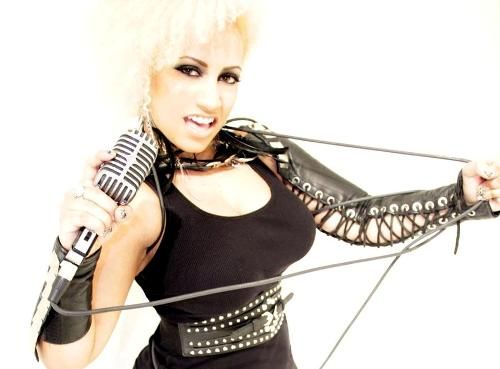 Walking to the yearly Indian Larry Grease Monkey block party to see heavy metal band Judas Priestess, I heard the band's lead vocalist MilitiA, three blocks away, above the Williamsburg din of cars and horns and trains I hear over here all the time. There's nothing like the power of a good female vocalist!
And there's nothing like a woman who wears many hats. Listen to this: she writes, she sings, she performs solo, she heads another hard rock band, Swear On Your Life, as well as her Judas Priestess band (the all-girl tribute band to Judas Priest). MilitiA VJs, hosts shows and has been all over music TV stations like FUSE, MTV2 and VH1. She's collaborated with everyone from Dee Snider to Cyndi Lauper, Sandra Bernhard and even Nancy Sinatra. She's appeared in TV shows and film as well.
If I told you that on top of all that she models you'd probably say, C'mon, get outta here! Where does she find the time for all this stuff? But it's true. MilitiA has modeled for several clothing lines and calendars. In fact, this is a woman so totally in control of her career and the scope of it, that I wouldn't be surprised if the next career goal she plans to conquer hasn't already happened at the time of this writing. Just sayin'.